Clone a WordPress Website is very easy now in 2021 Because WordPress user has Advance Plugin that's make cloning very easy for beginners, So finally, this
In fact, I hope you get the right stuff, but you must know what clones work, or how they work and why before I begin talking about the Clone WordPress site.
There are some suggestions.
I'm going to speak to you most about cloning a website. Please read this post calmly for a positive outcome.
What is Clone Website?
Simply, Cloning of websites means the development of a new Website by copying or modifying the original website template or script. A website cloning can allow designers to develop websites without writing the script.
So As, You are Going to Learn Clone WordPress Website, To have the right process for complete the process of cloning. 
                        Why Should Clone a WordPress Website? 
It's up, but in most situations, the answer is yes. If you want to be secure and safe then the Clone a WordPress Website is a way to go for your next business!
Web developers have mostly developed a clone script that incorporates elements and the modification of an existing Internet site interface. The next stage to improve the website features is the complete and optimised update to all forms of requirements. 
From a developer or programmer's basic perspective, that the website clone eliminates the need to examine specifications thoroughly and with little case study site or needs better functionality and overall Shift in design language for any website interface. 
In short, we must develop a structure that meets your needs.
So, As I told you about the clone or cloning working process, It's all update now in 2021, It's become easier for you to clone any website more easily without doing other hands of stuff. 
1.Create and download a copy of your website
Firstly, the Duplicator plugin must be installed and enabled on the original account. Search the new dashboard duplicator page.  like to make a new one by clicking on it.
The "pack" includes 2 files for the replicator to set up a copy of your website on the new server by your stand-alone installer. With the addon, you can make as many packages as you want. Only type an ID and Next click: Then the next thing is:
Duplicator will alert you about bugs in your settings at this stage. Depending on the web host and site scale, it is normally sent an alert or two. Check the box you are reading if you do. And this is what. And that is what. Oh, well, well. Continue the process of building! Click Build under this page:

Now allow the plugin to perform its magic. If the procedure has been completed, you can download the two files mentioned above:

Download it, like all other files, to your machine and track where it is saved. In a couple of minutes, we'll need it again.
2.Upload a duplicate of your website to your computer.
The next step is to migrate the files that you downloaded to your new server. To do this, you will be using an FTP client. If you don't have a set-up yet, I recommend FileZilla.
The credentials you have received when you log in to the corresponding web host will require you to connect via FTP into your new server: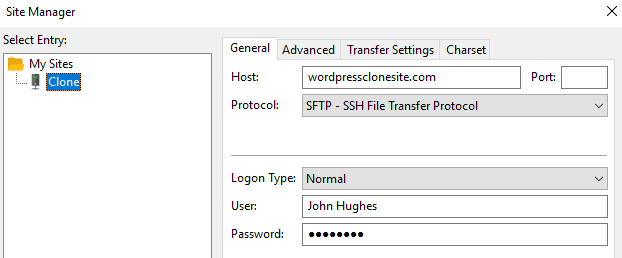 Once you're in, copy both files to your server's root directory – which is usually named either www or public_html – then proceed to the next step.
3. Create a directory for your website clone.
To store your content, every WordPress site requires a database, and your clone is no different. In this process, we will set up an empty database to ready the cloned site for step No. four. In this way, we will upload the content of your original site to your current database using the Duplicator installer.

If you are using a regular web host, you can find several options for databases in your cPanel. We search for the MySQL database reader:

Search the most recent database site on your arrival. Choose your name and use the Create database button, ideally for anything unique to your website.
Now scroll down to the Add New User area. Select a user name and a password and then check your preference. Go to the Add User to Database option, find the user that you built, and choose your new database from the menu down:

4. Run the installer and finish the cloning.
Now that both files are on your root server, access your new website through your browser and add /installer.php to its URL, as in the example below:
In this way, you can access and begin the cloning process by accessing the installer file you downloaded during the stage. Duplicator will inform you at this point if your files have problems and will ask for clarifications.
The next click takes a while to unpack the files via Duplicator. Upon completion, you will be asked to enter your current database information. When ready, press Next and you can import your old database into the new one by means of the plugin.

After this, Duplicator asks you to check the URL, location and title of your 'new' website. Fill out all these fields and one last time press Next:
The installer will ask you for the upgrade of your permalink structure, verify for the proper functioning of your cloned website and remove all installer and archive files. Click on each button to do this and allow Duplicator to do the job for you: